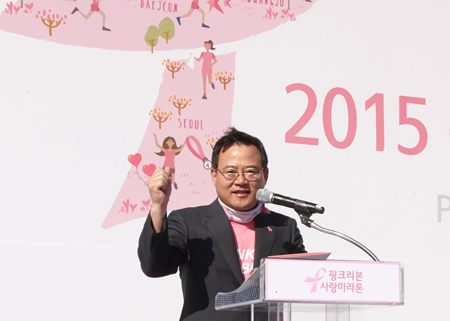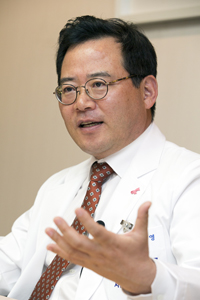 By Jung Min-ho, Kim Eil-chul

Breast cancer is the second leading cause of cancer death among Korean women after lung cancer, according to the Korea Insurance Development Institute, a non-profit think tank.

Researchers say more than one in five breast cancer survivors in Korea experience a recurrence, and when the disease comes back, it is often more life-threatening.

Thus, even when people overcome breast cancer, the fear remains.

This is why breast cancer treatment must be more than just removing malignant tumors, says Prof. Noh Dong-young of Seoul National University College of Medicine.

"Many patients live in constant fear of dying," Noh, 59, said. "Psychiatric care is also necessary for their full recovery."

Noh is one of the medical pioneers who dedicated themselves to the development of Korea's breast cancer treatment in the 1990s, when there were few breast cancer specialists and psychological treatment for the patients was overlooked.

With a Ph.D. in biochemistry from Seoul National University, Noh is also one of the few physician-scientists in Korea, whose interests and expertise include both surgery and scientific research.

Yet, his top priority has always been restoring the lives of his patients, and, to this end, performing surgery, he noted.

"'A doctor who truly cared about his patients.' That's how I want to be remembered," Noh said.

"I think a lot about how to communicate better with my patients, which I believe is important to those who suffer serious psychological problems."

The technological advancements in the 2000s, during which online communities became increasingly popular, presented Noh with an opportunity. He thought the Internet could be a great platform for more personal communication with his patients and for disseminating facts about breast cancer.

In 2000, he formed a community for patients and survivors of breast cancer. The Korea Venus, which now has more than 10,000 members across the country and abroad, soon became a widely replicated model for patient support networks.

"Many breast cancer patients go through an enormous amount of stress," he said. "By interacting with one another in a supportive environment, patients can work through their grief, fear and other negative emotions."

On the Korea Venus website, he created a Q&A section that gives patients further help. So far, about 20,000 questions have been answered on the page.

"It wasn't easy at the beginning but later it became a joy of my day," he said of the website. "Looking back, I'm really glad that I started it. As much as patients learned through communications there, I did too. Listening to their difficulty and feedback helped me become a better doctor."

Outside Korea, he is better known for initiating an awareness campaign for breast cancer in the country with a pink ribbon. The ribbon is the international symbol of breast cancer awareness.

In cooperation with AmorePacific CEO Suh Kyung-bae, Noh created the Korea Breast Cancer Foundation in 2000 and later started Korea's own "Pink Ribbon Campaign," which was first launched by Alexandra Penney in the United States in 1992.

One of the main goals of the Pink Ribbon Campaign was to shatter the shame and silence that surrounded the disease. The campaign was a big success _ breast cancer patients and survivors are no longer stigmatized as much as it was in the 1980s and 1990s, Noh said.

He reminisced about the early days of the breast cancer campaign. It was little known when it was launched, but today it is considered one of the most successful examples of cause-related marketing, bringing in thousands of supporters to its major events.

Another major goal of the campaign was to promote breast cancer screening in order to catch breast cancer in its earliest and most treatable phase, he said.

The foundation's funds grew as well. Last year, the foundation raised more than 2 billion won ($1.7 million) for breast cancer care and research _ the largest amount it has ever raised in a year.

Since 1990, Noh has performed operations on more than 10,000 breast cancer patients.

"I think I was lucky," he said of his campaign's success. "I was just at the right place at the right time. And without the many people who helped me, the success of the campaign would have not been possible."

Beating the 'unbeatable'

According to the state-run National Cancer Center, the five-year survival rate of breast cancer, which refers to the percentage of patients who live at least five years after their diagnosis, was 91.3 percent on average between 2008 and 2012, up by 13.4 percent from that between 1993 and 1995.

So there is no denying that the current breast cancer treatments, which include _ removing cancerous tumors with surgery, radiation or chemotherapy _ work.

But as effective as they are, these methods can be brutal on a patient.

Thus, finding less painful and more effective treatments has long been a mission for breast cancer researchers around the world.

As a researcher, Noh focuses on the breast cancer stem cell hypothesis, which is based on the observation that tumors, like adult tissues, arise from cells that exhibit the ability to self-renew as well as give rise to differentiated tissue cells.

"Although this concept is not entirely new, advances have been made over the past years in our understanding of stem cell biology," he said.

He has also done a great deal of research on developing new breast cancer biomarkers by using proteomic and genomic technologies.

"If my research is successful, it will be possible to tailor therapies toward an individual's cancer," he said.

Directing a 'world class' breast cancer center

Established in 2004, the Breast Care Center (BCC) at Seoul National University Hospital has quickly evolved into one of the leading institutions for breast cancer treatment.

Last year, more than 40,000 outpatients visited the center, with over 1,500 of then having surgery there.

When it comes to the five-year survival rates, the BCC is among the best in Korea with 95.2 percent from 2004 to 2009.

As the first chief director of the BCC, Noh said he tried to make it a multidisciplinary clinic, where breast cancer patients can get help from various departments, including plastic surgery, psychiatry and pathology.